Synergy Summit 2022 Event
June 15, 2022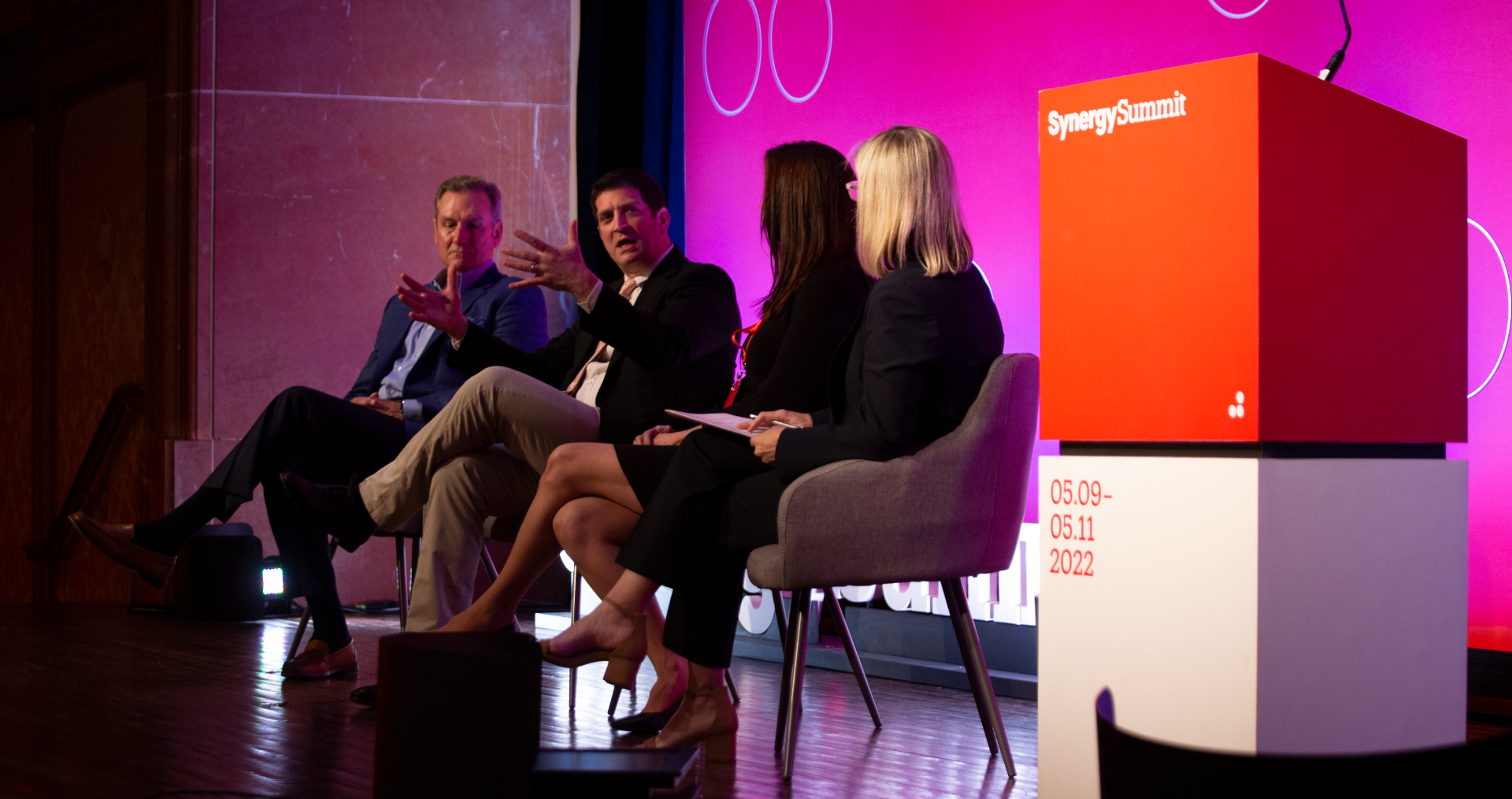 ---
Recap: Innovations in Skilled Nursing and Long Term Care
With sunny San Diego, CA as the backdrop, Synergy Summit 2022 was another successful event for C-Suite executives in the post-acute care (PAC) and long-term care (LTC) industries.
This education-driven retreat, founded by SRX and Synergy HCA, provided owners and operators with a content-rich program delivered by top thought leaders. Synergy Summit 2022 focused on Innovations in Skilled Nursing and Long-Term Care, including insights and strategies around provider-partnership networks, integrating the SNF-at-home model, staffing challenges, and much more.
It was a phenomenal event with incredible speakers and panelists. The following is a roundup of content that came from this year's Synergy Summit.
Craig Samitt, Founder and CEO at ITO Advisors, was the 2022 Keynote Speaker and kicked off day one with an engaging session on "What Will it Take to Transform the US Healthcare Model?" Samitt drew a distinction between operators who are trying to get back to the status quo and the innovators who are working to improve the industry.
"There are a lot of problems in healthcare and many survivalists are not trying to solve them. The innovators are." —Craig Samitt
In his opinion, the innovators will "outpace the survivalists.". This was an incredibly eye-opening, level-headed presentation that helped explain large concepts at play in the current long-term care industry.
Seema Verma, former Administrator at the Centers for Medicare & Medicaid Services (CMS), and a national health policy expert served as a 2022 featured speaker. Returning for her second year in a row, she delivered another incredible presentation addressing the current administration's flawed oversight approach of resorting to punitive measures first. In Verma's view, new oversight models need to be tested that take proactive steps to improve facilities.
"We need to move away from a problem-finding system to a problem-solving system." —Seema Verma
Read more on Verma's speech, and how she explains that a "More holistic approach [is] needed to drive quality" in this follow-up article from Skilled Nursing News: Former CMS Chief Verma: Focus on SNF Ownership a 'Colossal Waste of Time,' More Holistic Approach Needed to Drive Quality.
Erik Johson, Senior Vice President & National Practice Lead at Optum Advisory Services, alongside Ephram Ostreicher of National Health Care Associates, discussed managed care organizations and transforming the continuum of care. Johnson advised, "those that manage episodic risk better, consistently, will have more referrals from hospitals who want more control over readmission risk."
In addressing the staffing challenges that the LTC and PAC industries have faced over the last three years, Clint Maun, President and Senior Partner of Maun-Lemke Speaking and Consulting, delivered an exceptional presentation with a treasure-trove of unique knowledge and insights into what recruiting and building great teams should really look like. His passion for the subject was contagious and he provided actionable intel that made tackling staffing issues palatable and focused for those in attendance.
"Instead of recruitment, selection, retention—it is retention of highly selected people who are mutually recruited. Meaning they want you and you want them." — Clint Maun
One special focus of this year's Summit was addressing how providers can best integrate the SNF-at-home model. The panelists from this session included Steve Flatt with National HealthCare Corporation (NHC), Judy Walsh with Constellation Health Services, and Robert Moskowitz with Contessa Health offered a level-headed view of what this new model could look like for providers.
Read more on the considerations of adopting the SNF-at-Home model in this follow-up article from Skilled Nursing News: The Good, the Bad and the Ugly: What Nursing Homes Should Consider When Diving into SNF-at-Home.
Despite a rise in home health, nursing homes fill a critical need for seniors in the healthcare system and are here to stay. Anne Tumlinson, CEO with ATI Advisory, Jeremy Earl, Partner at McDermott, Will & Emery, Pamela Pelizzari, Principal & Seniors Consultant with Milliman, and moderator, Brain Fuller, CEO with Integrated Care Solutions, addressed the landscape and opportunities of risk-based arrangements for SNFs. During this captivating talk around value-based care, one of the biggest takeaways is that quality care must come first in an SNF.
"The best opportunity for skilled nursing operators in this…is looking for either high needs or regular DCEs in your market that are already set up to get volume, and then look at the patient population that lives in your building full-time as an opportunity to bring a clinical model and attribute lives, and share in the savings with you. So you become a shared savings partner in that environment. There's an enormous amount of value in that." –Anne Tumlinson
To round out the education sessions, Renee Cummings, CEO of Access Co, George Sauers, Chief Managed Care & Strategy Officer of Rockport / Founder & President of Post Acute Care Collaborative Partners, Brain Deely, President & CEO of Management and Network Services, and moderator, Bernie McGuinness, CEO of Majestic Management discussed building highly effective PAC provider networks. The greatest takeaway from this concluding panel was that there is more to working with your health plan partners than negotiating the best possible terms at any cost and emphasized the importance of focusing on relationship-building in order to best leverage networks for success.
The rich content, thought leadership, and networking opportunities are just a few aspects of what makes Synergy Summit such a great event. Its uniqueness as an executive retreat also lives in the luxurious settings, fine dining, and fun activities offered. To see more on what Synergy Summit is all about, watch the 2022 Recap Video here.
We look forward to seeing you in attendance next year.
---
SRX is a co-founder of Synergy Summit. SRX is a technology and advisory company that helps LTC operators realize the lowest net cost on drug costs. We help our customers improve drug utilization, manage pharmacy relationships, reduce costs and waste, and maximize rebates. We are committed to transparency and accountability and guarantee our quarterly rebates are paid on time, every time. Contact us at 833 633 6833.
---